Are you tired of wearing the same outfits over and over again? Do you want to step up your fashion game but don't know where to start? Look no further! In this blog post, we'll go over some tips and tricks for mixing and matching pieces in your wardrobe. How to Style Your Outfits! With a little creativity, you can create endless outfit combinations that are stylish, unique, and perfect for any occasion. So buckle up and get ready to become a master at styling your outfits!
The Basics of Mixing and Matching Pieces
When it comes to styling your outfits, one of the most important things to keep in mind is how to mix and match pieces. With so many different clothing items and accessories available, it can be difficult to know what goes with what. However, by following a few simple tips, you can easily learn how to mix and match pieces to create stylish outfits.
One tip for mixing and matching pieces is to focus on colors. When choosing colors for your outfit, try to pick complementary or analogous colors. Complementary colors are opposite of each other on the color wheel, such as blue and orange. Analogous colors are next to each other on the color wheel, such as green and yellow. By picking complementary or analogous colors, you can create outfits that have a harmonious look.
Another tip for mixing and matching pieces is to pay attention to patterns and prints. When wearing patterned or printed clothing items, it is important to pair them with solid-colored pieces. This will help create a balance in your outfit and prevent it from looking too busy or cluttered. You can also experiment with different textures when mixing and matching pieces. For example, pairing a chunky sweater with a silk scarf will add interest and dimension to your outfit.
By following these tips, you can learn how to mix and match different clothing items and accessories to create stylish outfits that are perfect for any occasion.
Creating a Capsule Wardrobe
A capsule wardrobe is a versatile collection of clothing pieces that can be mixed and matched to create a variety of looks. Creating a capsule wardrobe is a great way to save time and money when getting dressed each day. Follow these tips to create your own capsule wardrobe:
1. Start with the basics. A capsule wardrobe should include basic items like jeans, tees, sweaters, and jackets that can be easily mixed and matched.
2. Add in some statement pieces. To make your outfits more interesting, add in a few key pieces like a printed dress or skirt, a denim jacket, or a pair of funky earrings.
3. Choose versatile colors and patterns. Stick to neutral colors like black, white, grey, and navy that can be easily paired together. And choose patterns that can be mixed and matched, such as stripes or polka dots.
4. Edit your wardrobe regularly. As your style changes over time, so should your capsule wardrobe. Regularly edit out pieces that you no longer wear and add in new items that reflect your current style.
Tips for Mixing and Matching Different Pieces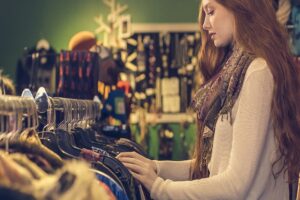 When you're putting together an outfit, it's important to consider not only the individual items that you're wearing, but also how they work together. Here are some tips for mixing and matching different pieces:
-Start with a basic foundation: Choose a few key pieces that you can build your outfit around. A good pair of jeans, a versatile top, and a neutral cardigan or jacket are always great options.
-Add in some color and pattern: Once you have your basic foundation in place, it's time to add some personality to your look with colorful and patterned pieces. A printed scarf, a brightly colored blouse, or even just a simple striped tee can really make an outfit pop.
-Accessorize: Don't forget the finishing touches! Accessories can really tie an outfit together and help you create your own unique style. A bold piece of jewelry, a stylish handbag, or even just a great pair of shoes can make all the difference.
How to Accessorize Your Outfits
When it comes to accessorizing your outfits, less is usually more. A few well-chosen accessories can really make an outfit pop, but too many can be overwhelming. Here are some tips for choosing the right accessories for your outfits:
-Choose pieces that complement your outfit's colors and style. If you're wearing a brightly-colored dress, choose jewelry and shoes that tone it down a bit. If you're wearing a more casual outfit, dress it up with some fun jewelry or a statement scarf.
-Think about the occasion you'll be wearing the outfit for. If you're dressing for a formal event, go for understated elegance with pearls or diamond stud earrings. For a night out with friends, try something more funky and fun like colorful beads or chandelier earrings.
-Consider your own personal style when accessorizing. If you tend to dress on the conservative side, don't go overboard with flashy jewelry or sky-high heels. But if you're known for being fashion-forward, feel free to experiment with different trends and pieces.
Conclusion
We hope that this article has given you some inspiration and tips on how to style your outfits. Remember to balance proportions, find the perfect mix of colors and patterns, add in some statement pieces for a bit of flair, and keep an eye out for trends that might appeal to you. With these tips as your guide, don't be afraid to experiment with different combinations until you find the look that suits you best!