Ready to snag some amazing deals and exclusive discounts? Look no further than these top shopping events! Whether you're a savvy bargain hunter or just love a good splurge, attending one of these events is sure to satisfy your shopping cravings. From fashion to electronics, we've rounded up the best of the best so you can save big while enjoying an unforgettable shopping experience. So grab your credit card and get ready for some serious retail therapy – here are the must-attend shopping events of the year!
Black Friday
Black Friday is one of the biggest shopping events of the year, and it's when many retailers offer exclusive discounts and offers. Here are some tips for getting the most out of Black Friday:
– Plan ahead and make a list of what you want to buy. This will help you stay focused and avoid impulse buys.
– Compare prices online before heading out to the stores. This way you'll know if the deals are really as good as they seem.
– Get there early! The best deals always go fast, so you'll want to be one of the first in line.
– Be prepared to bargain. Many retailers are open to negotiating on price, especially if you're buying multiple items.
– Don't forget about online shopping. Many retailers offer great Black Friday deals online, so you can shop from the comfort of your own home.
Cyber Monday
Cyber Monday is the perfect time to snag amazing deals on everything from clothes and accessories to home goods and tech products. Many retailers offer exclusive discounts and offers for Cyber Monday, so it's definitely worth checking out your favorite stores' websites and social media pages to see what's on sale. Plus, you can shop from the comfort of your own home, which is always a bonus!
End of Season Sales
Now that the summer is coming to an end, retailers are starting to offer deep discounts on summer merchandise to make room for fall inventory. This is the perfect time to snag some great deals on clothing, accessories, and home goods. Here are some of the best end of season sales to check out:
-Nordstrom Anniversary Sale: This highly anticipated sale offers steep discounts on Nordstrom's own brands, as well as designer labels. The sale runs from August 4-30.
-Labor Day Sales: Many retailers offer significant discounts over the Labor Day weekend. Be sure to check out ads in advance so you can plan your shopping accordingly.
-End of Summer clearance sales: Most stores start marking down summer items in early August, so this is a great time to stock up on seasonal favorites at a fraction of the cost.
Warehouse Sales
When it comes to shopping for discounts and exclusive offers, few events can top a warehouse sale. Warehouse sales are typically held by retailers when they need to clear out inventory, and they offer deeper discounts than what you'll find in stores. They're also a great opportunity to snag items that may be sold out elsewhere.
If you're looking for a bargain, keep an eye out for warehouse sales at your favorite retailers. You can usually find them advertised in the local paper or online. And don't forget to bring cash – most warehouse sales are cash only.
Friends and Family Discounts
If you're looking for exclusive discounts and offers, the best shopping events to attend are friends and family sales. These sales are typically held by retailers in order to encourage customers to shop with them again or for the first time. In order to take advantage of these sales, you must be a member of the retailer's loyalty program. Members of the loyalty program will receive an email or text notification about the sale a few days before it starts. The sale usually lasts for two to three days, and during that time, members can enjoy discounts of up to 50% off their purchase. In order to get the most out of these sales, be sure to shop early and take advantage of all the savings!
How to Shop at Exclusive Events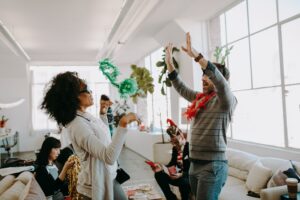 If you love to shop and are always on the lookout for a great deal, then you'll want to know about the best shopping events to attend for exclusive discounts and offers. These events are usually invite-only and offer steep discounts on designer labels and other luxury items. Here's how to shop at exclusive events:
1. Find out when the event is taking place. Many of these events are held during the holidays or at special times of year, so start by doing some research and finding out when they're happening.
2. Get an invitation. You can't just show up to these events without an invite, so start by trying to get your hands on one. You may be able to find an invitation through a friend or family member who's already planning on attending, or you can try contacting the organizers directly.
3. Shop early. Once you've got your invitation, make sure to arrive early so you can take advantage of all the best deals. These events are often crowded, so getting there early will ensure that you have a good chance of getting what you want.
4. Bring cash. Many of these events don't accept credit cards, so it's important to bring enough cash to cover your purchases. There will usually be ATMs on site, but it's always a good idea to come prepared with enough money ahead of time.
5. haggle politely . Don't be afraid to negotiate with the sellers at these events.
Conclusion
Shopping events are an incredible way to get your hands on exclusive discounts and offers. With so many different shopping events happening every month, it can be hard to decide which one is best for you. We hope that this article has helped you narrow down the list and find the best shopping event for your needs. Now all that's left for you to do is mark those dates in your calendar, don't forget them, and shop till you drop! Good luck!