Are you tired of juggling multiple travel apps to plan your next adventure? Say goodbye to the hassle and hello to a stress-free trip with our curated list of the best travel apps! Whether you're looking for flight deals, hotel accommodations, or local recommendations, these user-friendly tools will make your journey smoother and more enjoyable. So sit back, relax, and let technology be your travel companion as we explore the top apps that every wanderlust needs in their arsenal.
Google Maps
Google Maps is a must-have app for any traveler. It provides turn-by-turn navigation, traffic data, and transit information for over 200 countries. You can also use it to find the best restaurants, hotels, and attractions in your destination. Plus, you can save your maps offline so you can use them even when you're not connected to the internet.
TripAdvisor
If you're looking for the best travel apps to make your next trip more enjoyable, look no further than TripAdvisor. With over 500 million reviews and opinions from travelers around the world, TripAdvisor is the ultimate travel companion. From finding the best hotels and restaurants to the top attractions and things to do in your destination, TripAdvisor has everything you need to make your next trip perfect.
Travelocity
When it comes to booking airfare, Travelocity is one of the most popular travel websites. In addition to offering a comprehensive search engine that allows you to compare prices on hundreds of airlines, Travelocity also offers a variety of helpful tools and features. For instance, the site offers a fare calendar that shows the cheapest days to fly, as well as a "Top Deals" section that highlights current flight deals. You can also sign up for Travelocity's email list to receive exclusive offers and discounts.
Whether you're looking for flights, hotels, or rental cars, Travelocity makes it easy to find the best deals on travel. And with the Travelocity app, you can access all of these services on the go. With the app, you can easily search for flights and compare prices. You can also view hotel photos and reviews, and book your stay right from the app. The rental car feature allows you to find the best deals on car rentals, and you can even check in for your flight right from the app. With so many features and an easy-to-use interface, Travelocity is one of the best travel apps available.
Expedia
If you're like most people, you probably use your smartphone for just about everything. So why not use it to help plan and book your next vacation? With the Expedia app, you can do just that!
The Expedia app makes booking airfare, hotels, and rental cars a breeze. You can even use it to find things to do at your destination. Plus, if you're a member of Expedia+ rewards, you can earn points toward free travel.
So what are you waiting for? Download the Expedia app and start planning your next vacation today!
Orbitz
Orbitz is a travel app that can help you book flights, hotels, and rental cars. It can also give you recommendations for things to do in your destination city. Orbitz can save you time and money by finding the best deals on travel expenses.
Kayak
If you're planning a trip that involves any kind of water activities, then you'll want to download a kayak app. There are a few different ones available, but our favorite is the Kayak app from Google Play. This app allows you to search for kayaking trails near your current location, as well as get directions and even find nearby kayak rentals.
If you're new to kayaking, don't worry – the app also includes tips and tricks for getting started, so you can be sure you're prepared before heading out on the water. And if you're an experienced kayaker, the app's advanced features will help you plan the perfect trip, whether it's a leisurely paddle down a calm river or an adventurous journey through whitewater rapids. No matter what your skill level, the Kayak app is a great tool to have when planning your next paddling adventure.
Hipmunk
Hipmunk is a great travel app that can help you plan your next trip. You can search for flights and hotels, and book them all in one place. Hipmunk also has a great price filter, so you can find the best deals on flights and hotels.
AirBnB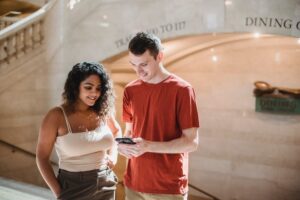 AirBnB is a travel app that allows you to find and book rooms, apartments, and homes in countries all over the world. With AirBnB, you can read reviews from previous guests, see photos of the accommodations, and communicate with your host before you arrive. AirBnB offers a wide variety of accommodations to fit any budget, and it's a great way to meet locals and experience a city like a local.
Trivago
Trivago is a travel app that allows users to compare hotel prices from all over the internet in one place. That way, you can find the best deal on hotels without spending hours online. Trivago also shows user reviews of hotels, so you can make sure you're getting a good deal on a quality hotel.
TouristEye
If you're planning a trip, there's no shortage of apps to help you out. But which ones are the best? That's where TouristEye comes in.
TouristEye is a travel app that helps you plan your trip and find the best things to see and do. It's packed with features to make planning your trip easier, including a trip planner, city guides, and an activity finder.
Plus, it's all offline so you can use it even when you don't have an internet connection. So whether you're looking for the best restaurants, the best hotels, or the best activities, TouristEye is the app for you.
Conclusion
We hope this article has helped you to discover some of the best travel apps out there. As technology continues to improve, so do our options for planning and documenting trips with ease. Whether you're looking for a way to plan a budget-friendly vacation or just something that will remind you when it's time to check into your flight, these apps can be incredibly helpful in making sure your next trip is easier and more enjoyable than ever before.