Are you tired of waiting in line for movie tickets or rearranging your schedule to catch a TV show at its scheduled time?
Well, say hello to the era of streaming entertainment!
With platforms like Netflix and Disney+ leading the charge, traditional media consumption is shifting towards on-demand viewing.
In this blog post, we'll explore how these streaming giants have changed the game.
You will also understand what it means for the future of entertainment.
So grab some popcorn (or your snack of choice) and let's dive in!
What is streaming?
In the past, if you wanted to watch a movie or TV show, you had to buy or rent it from a store or online service.
This meant that you had to wait until the movie or TV show was released on DVD or Blu-ray, or until it aired on television.
With streaming, you can watch movies and TV shows as they become available.

There are two types of streaming: live streaming and on-demand streaming. Live streaming is when you watch a movie or TV show as it airs on television.
On-demand streaming is when you can watch a movie or TV show whenever you want, without having to wait for it to air on television.

Most streaming services, like Netflix and Disney+, offer both live and on-demand content.
This means that you can watch your favorite shows as they air, or you can binge-watch an entire series all at once.

Streaming is changing the way we watch television and movies. It's more convenient than ever before, and there are more choices than ever before.
Whether you're watching live or on demand, there's a streaming service that's right for you.
The history of streaming
The history of streaming can be traced back to the early days of the internet.
The first streaming service, known as WebTV, was launched in 1995.
This allowed users to watch live TV over the internet. WebTV was later acquired by Microsoft in 1997.

In 2007, Netflix introduced a streaming service that allowed instant streaming of TV shows and movies on personal computers.
The following year, they launched a similar service for the Xbox 360 console. In 2010, they became available on the Playstation 3 and Wii consoles.

In 2011, Netflix expanded their service to include Canada and Latin America.
They also announced plans to launch an independent film production company called Red Envelope Entertainment.

In 2012, Disney purchased a majority stake in Maker Studios, a YouTube multichannel network.
This gave them a significant presence in the online video space.

In 2013, Disney launched their own streaming service called Disney+. This marked the beginning of the "streaming wars."

Since then, many other companies have launched their own streaming services, including Apple TV+, HBO Max, and Peacock.
How streaming is changing entertainment
In the past, if you wanted to watch a movie or TV show, you had to buy or rent a physical copy or go to a theater.
But now, with the rise of streaming platforms like Netflix and Disney+, people are increasingly watching movies and TV shows online.
This shift has changed the way entertainment is consumed and has had a profound impact on the entertainment industry.

For one, it has made it easier for people to watch what they want, when they want.
No longer do you have to plan your life around when a movie is playing in theaters or hope that your favorite show is on TV when you have free time.
With streaming, you can watch whatever you want, whenever you want.

This convenience has led to a surge in popularity for streaming services.
In just a few years, Netflix has gone from being a niche service to one of the most popular entertainment options around.
And as more and more people cancel their cable subscriptions in favor of streaming, traditional television is struggling to keep up.

The rise of streaming has also had an impact on the way movies and TV shows are made.
Because there are no commercials on streaming platforms like Netflix, creators have more freedom to experiment with storytelling and create content that is not necessarily designed to appeal to advertisers.
This has resulted in some truly groundbreaking and original content that would never have been greenlit by a traditional network.

So far, the effect of streaming on entertainment has been largely positive.
The pros and cons of streaming
As the world of entertainment continues to evolve, more and more people are turning to streaming platforms like Netflix and Disney+ for their entertainment needs.
While there are many benefits to using these platforms, there are also some drawbacks that should be considered.

One of the biggest advantages of streaming platforms is that they offer a wide variety of content that can be enjoyed at any time.
Whether you want to watch a movie, TV show, or even a live event, there's a good chance you can find it on one of these platforms.
This convenience is one of the main reasons why so many people have made the switch to streaming.

Another benefit of streaming services is that they often offer exclusive content that can't be found anywhere else.
For example, Netflix has produced several popular original series like Stranger Things and The Crown that can only be watched on their platform.
This helps to keep people subscribed to these services since they know they won't be able to find this content anywhere else.

However, there are also some drawbacks to using streaming services.
One of the biggest is that it can be easy to become too reliant on them.
If you're not careful, you may find yourself spending more and more time glued to your screen instead of enjoying other activities.
Additionally, streaming services can be quite expensive if you subscribe to multiple different ones.
It's important to consider whether or not the cost is worth it before signing up for anything.
What the future of streaming looks like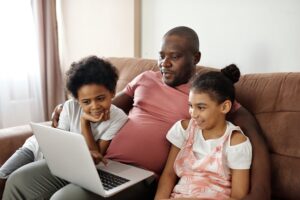 The rise of streaming has brought about a major shift in the way we consume entertainment.
No longer are we tethered to cable companies or forced to watch commercials.
Instead, we can choose what we want to watch, when we want to watch it, and on which device.

This shift has been accelerated by the coronavirus pandemic, as more people have turned to streaming services for their entertainment needs.
And it's not just movie and TV fans who are streaming; music listeners are also turning to platforms like Spotify and Apple Music for their fix.

So what does the future of streaming look like?

For one thing, we can expect even more platform options.
In addition to the major players like Netflix, Disney+, Hulu, and Amazon Prime Video, there are a number of up-and-coming services that are worth keeping an eye on.
Among them are NBCUniversal's Peacock, WarnerMedia's HBO Max, and Quibi (which offers short-form content designed for viewing on mobile devices).

We can also expect continued expansion into new markets.
As broadband penetration increases around the world, so too will the number of people with access to streaming services.
This means that even more people will be able to enjoy the benefits of these platforms.

Finally, we can expect even more original content from streaming services.
With so much competition for viewers' attention, platforms like Netflix and Disney+ will need to continue creating compelling reasons for people to subscribe
Conclusion
Streaming platforms such as Netflix and Disney+ have revolutionized the entertainment industry.
They make it easier than ever to access content from around the world.
This has allowed viewers of all kinds to explore new genres, films, and shows that they may not have seen before.
When you start providing an easy way for people to watch what they want when they want it, streaming services are quickly becoming one of the most popular ways for people to experience media.
So if you're looking for a new way to stay entertained or just in need of a break from traditional viewing methods, give streaming a try–you won't be disappointed!