Attention small business owners! Are you looking to expand your market reach and take your sales online? Then, you need a reliable e-commerce platform that can handle all your needs. With so many options available, it can be overwhelming to choose the right one for your business. But don't worry; we've got you covered! In this blog post, we will be sharing the top five e-commerce platforms for small businesses that are user-friendly, affordable, and efficient. So buckle up as we guide you through the best options out there for taking your business to new heights of success!
Shopify
Shopify is a leading e-commerce platform that enables small businesses to create and operate their own online stores. It provides a simple and easy-to-use platform with powerful tools and features to help businesses succeed online. With Shopify, businesses can take control of their online sales and grow their businesses at their own pace.

This ecommerce offers everything businesses need to create a professional online store, including website builder, shopping cart, payment processing, and more. Plus, Shopify makes it easy to manage your inventory, orders, customers, and shipping from one central location. Whether you're just getting started or you're ready to take your business to the next level, Shopify has the tools and support you need to succeed.
BigCommerce
BigCommerce is a powerful e-commerce platform that enables small businesses to create professional online stores. It provides everything you need to launch, run, and grow your business online, including built-in templates, secure hosting, 24/7 support, and payment processing. You can also take advantage of This advanced features, such as abandoned cart recovery and customizable coupons, to drive more sales.
WooCommerce
WooCommerce is a popular e-commerce platform for small businesses. It is a WordPress plugin that allows you to turn your WordPress site into an online store. WooCommerce is easy to use and set up, and it offers a wide range of features, including product management, order processing, inventory management, shipping, and payments. You can also find a wide range of plugins and themes for WooCommerce to customize your store.
Magento
Magento is a popular e-commerce platform for small businesses. It is easy to use and has a wide range of features. Magento is also available in a free and paid version. The paid version is more expensive, but it includes more features.
OpenCart
OpenCart is a free and open source e-commerce platform. It is used by small businesses all over the world to create online stores. OpenCart has a wide range of features and is very user-friendly. It also has a large community of users and developers who can help you if you need support.
What to look for in an e-commerce platform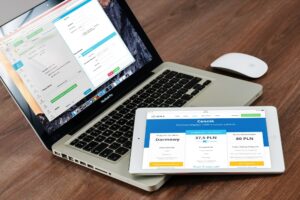 When choosing an e-commerce platform for your small business, there are a few key factors to consider:

– Ease of use: The platform should be easy to use, with a user-friendly interface that makes it simple to manage your online store.

– Scalability: The platform should be able to grow with your business, offering features and tools that allow you to scale up as your business expands.

– Security: With sensitive customer data being stored on the platform, security is crucial. The platform should have robust security measures in place to protect your data and keep it safe from cyberattacks.

– Cost: The price of the platform should be affordable, especially for small businesses operating on a tight budget.
Conclusion
Finding an e-commerce platform for your small business is no easy task. Fortunately, with the top 5 e-commerce platforms that we've highlighted in this article, the choice should be a bit clearer. Each of these tools offers unique advantages and disadvantages, so it's important to consider which one would best fit your particular needs. With a little time and effort spent researching each platform, you can find the right solution for building your business online.