Are you tired of the same old boring vacation spots for your family? Want to make unforgettable memories with your loved ones while exploring something new? Look no further! In this blog post, we've compiled a list of the top 5 family-friendly destinations that are sure to provide endless laughter, adventure and quality time. Whether it's basking in the sun on pristine beaches or immersing yourselves in rich cultural experiences, these destinations have something for every member of your clan. So pack your bags and get ready for an unforgettable journey filled with joy, excitement and bonding time!
Orlando, Florida
Orlando, Florida is one of the top family-friendly destinations for a memorable vacation. The city is home to world-renowned theme parks, including Walt Disney World, Universal Studios, and SeaWorld. Families can enjoy endless hours of fun and excitement at these parks, as well as take advantage of the many dining and shopping options available in the area. In addition to the theme parks, Orlando also offers a variety of other attractions, such as museums, zoos, and water parks. With so much to see and do, it's no wonder that Orlando is one of the most popular vacation destinations for families.
Anaheim, California
Anaheim, California is the perfect destination for a family-friendly vacation. With so much to see and do, your whole family will be entertained from the moment you arrive. From Disneyland and California Adventure to Knott's Berry Farm and Universal Studios Hollywood, there are endless activities to keep everyone happy. And when it's time to relax, you can enjoy the sunny beaches or take a dip in one of the many pools. With so much to offer, Anaheim is sure to make your family vacation one to remember.
Maui, Hawaii
If you're looking for a breathtaking beach vacation that the whole family will enjoy, look no further than Maui, Hawaii. With its sandy beaches, turquoise waters and lush tropical landscapes, Maui is a true paradise. And there's plenty to keep everyone entertained, from snorkeling and surfing to hiking through rainforests and visiting historic sites. Plus, there's no shortage of delicious Hawaiian cuisine to enjoy. Maui is the perfect place to relax and recharge with your loved ones.
Gatlinburg, Tennessee
Gatlinburg, Tennessee is a charming mountain town that offers plenty of activities for families. Visitors can explore the Great Smoky Mountains National Park, visit the Ripley's Aquarium of the Smokies, or take a scenic ride on the Gatlinburg Aerial Tramway. Other popular attractions include Ober Gatlinburg Ski Resort & Amusement Park, Gatlinburg Space Needle, and Ripley's Believe It or Not! Odditorium. Families can also enjoy the town's many shops, restaurants, and cafes.
Williamsburg, Virginia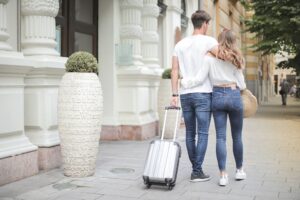 If you're looking for a family-friendly vacation destination that has something for everyone, look no further than Williamsburg, Virginia! This historic city is home to countless attractions, activities, and events that the whole family will enjoy. From exploring colonial Williamsburg to visiting Busch Gardens Williamsburg, there's no shortage of things to do in this vibrant city.

Here are just a few of the many reasons why Williamsburg, Virginia is the perfect destination for a memorable family vacation:

The Historic Area of Colonial Williamsburg: Take a step back in time as you explore the Historic Area of Colonial Williamsburg. This living history museum allows visitors to experience what life was like in 18th-century America. With over 500 buildings and sites to visit, you can spend days exploring all that this unique destination has to offer. Don't miss out on seeing the Governor's Palace, attending a play at the Revolutionary City, or learning about early American trades at one of the many craft shops.

Busch Gardens Williamsburg: For an adrenaline-pumping day of fun, head to Busch Gardens Williamsburg! This world-class theme park features thrilling rides, shows, and attractions for visitors of all ages. Be sure to check out Verbolten – one of the newest roller coasters – before enjoying some traditional German cuisine at one of the park's many restaurants.

Jamestown Settlement: A visit to Jam
How to choose the right family-friendly destination for your family
When it comes to planning a memorable vacation for your family, choosing the right destination is key. There are a few things to consider when narrowing down your options to find the perfect spot for your crew.

Think about the age of your children and what type of activities they would enjoy. A beach vacation may be ideal for young kids who love to build sandcastles and splash in the waves, while older kids and teens may prefer a more adventurous destination like a theme park or ski resort.

You should also consider your budget when selecting a destination. Family-friendly resorts and hotels can be pricier than other options, but many offer kid-friendly amenities like pools, babysitting services, and family-sized suites.

Finally, research the local area before booking your trip. Some destinations are known for being more family-friendly than others. For example, Orlando is often referred to as the "Theme Park Capital of the World" thanks to its abundance of kid-centric attractions, while cities like New York and Los Angeles offer more diverse entertainment options for families.

By considering these factors, you'll be sure to choose a family-friendly destination that everyone in your clan will love.
Conclusion
Vacations are an important part of family life that allow us to escape our everyday routines and simply enjoy being together. We hope this list of the top 5 family-friendly destinations has inspired you to plan a memorable vacation with your loved ones. From beach getaways to theme parks, there is something for everyone in this selection of amazing places. So make sure you choose one that's right for your family and start packing those bags!